Cyborg 007

Full Name

Great Britain

Designated No.

007

Age

9

Origin

London, England

Species

Cyborg

Role

Espionage and infiltration

Abilities

Shapeshifting

Status

Alive

Seiyuu
Great Britain, aka 007, is a mischievous, shape-shifting young boy, and one of the nine protagonists of the 00 Cyborg team that appear in both the 1966 film Cyborg 009, as well as in its 1967 sequel Cyborg 009 Monster Wars.
This incarnation of the character carried over to the 1968 TV series.
Appearance
Edit
007 is a 9-year old boy with a button nose and bald head, with only a small curlicue of hair protruding from it.
He wears the standard 00 uniform, which is a lavender military jacket and pants, with white buttons for contrast.
Personality
Edit
007 is a smart-mouthed, highly expressive and talkative young boy who serves as the "comic relief" character of the team, though 003 and 006 are either annoyed by him or argue with him due to his ways (in the case of the latter).
When scared, he tends to be seen jumping up on 005's shoulders for protection.
Abilities
Edit
007 can transform his body into any sort of animal or object at will, and freely uses this ability to confuse his enemies.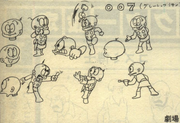 As with the 1968 series, this incarnation of 007 is voiced by Machiko Soga, who would later be famous for her work in Zyuranger.
While the team members other than 009 were unnamed in the films outside of their numbers, their names can be confirmed on their model sheets.
Ad blocker interference detected!
Wikia is a free-to-use site that makes money from advertising. We have a modified experience for viewers using ad blockers

Wikia is not accessible if you've made further modifications. Remove the custom ad blocker rule(s) and the page will load as expected.