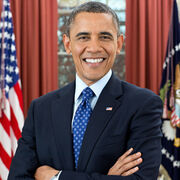 Barack Hussein Obama (born August 4, 1961-) is the 44th President of the United States and the first ever African-American president ever elected to office. His two terms as President lasted from 2008 to 2016. Due to his status as a President, popularity with the people of the world and the historic milestone achievement he represented for African-Americans, he has been featured in various media including comic books, film and TV shows.

Mr. Obama in 009
Edit
President Obama was very briefly seen in the 2012 film 009 Re: Cyborg in the Oval Office of the White House, being informed by his female aide about the rouge submarine under the thrall of His Voice preparing to launch a nuclear attack. He is seen briefly in despair over these events as his aide runs in a panic to alert other representatives of the US Government.

External Links
Edit
Ad blocker interference detected!
Wikia is a free-to-use site that makes money from advertising. We have a modified experience for viewers using ad blockers

Wikia is not accessible if you've made further modifications. Remove the custom ad blocker rule(s) and the page will load as expected.