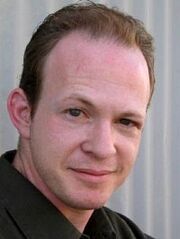 Derek Stephen Prince (born February 5, 1969) is an American voice actor residing in Los Angeles, California. He has been active in voice acting since 1994 to the present, through dubbed anime, Western animation, and video games, though he got his start in voicing monsters in Mighty Morphin' Power Rangers and Big Bad Beetleborgs.
He has also been credited under the names David Umansky, Steve Prince, and Steven Derek Prince.
In 2003, he was initially cast as 009 in Cyborg 009: The Cyborg Soldier and recorded for twelve episodes, but was fired as higher-ups at Sony did not approve of his nasal tone used for the character. He was replaced with Joshua Seth, who re-recorded ten of the twelve episodes. However, Prince was still utilized for other minor roles in the dub, most notably as Dr. Gaia and Shinichi Ibaraki. As his name also appeared mistakenly credited to 005 in the dub, it is also theorized that he had been cast as that character at another point but was replaced by Beau Billingslea.
Other Roles
Edit
Western Animation
Edit
Video Games
Edit
Live Action Voiceover
Edit
External links
Edit
References
Edit
Ad blocker interference detected!
Wikia is a free-to-use site that makes money from advertising. We have a modified experience for viewers using ad blockers

Wikia is not accessible if you've made further modifications. Remove the custom ad blocker rule(s) and the page will load as expected.