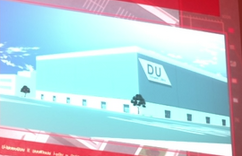 Dynamic Ultra (ダイナミックウルトラ Dainamikku Urutora, Dynamic Ultra?) is a biotech and tech research and development think tank corporation. It is major military supplier of advanced weapons as well as the leader in advanced munitions research. The company was founded in 1966 by Steven Archimedes, who quickly grew it into one of the leading tech firms in only a single generation. Some of the cutting edge technology the company manufacturers includes the Savior Tanks utilized by the United Nations Guardians.
Ad blocker interference detected!
Wikia is a free-to-use site that makes money from advertising. We have a modified experience for viewers using ad blockers

Wikia is not accessible if you've made further modifications. Remove the custom ad blocker rule(s) and the page will load as expected.