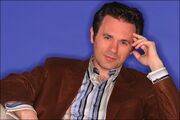 Joshua Seth Freedman (born December 2, 1970) is a Los Angeles, California-based American voice actor. He was active from the mid-1990s to 2004, and had retired afterwards to focus on his hypnosis career and his family, as well as due to the fact that voice acting for anime did not pay very well.
He had initially planned to retire in 2003, but was brought on to voice the title character in Cyborg 009: The Cyborg Soldier after higher-ups at Sony Pictures fired the previous actor Derek Stephen Prince due to his vocal performance not working out. Seth managed to redub ten of the twelve episodes that Prince had voiced in (although episodes 5 and 9 were not gotten to in time), and voiced 009 for the rest of the production.
Ad blocker interference detected!
Wikia is a free-to-use site that makes money from advertising. We have a modified experience for viewers using ad blockers

Wikia is not accessible if you've made further modifications. Remove the custom ad blocker rule(s) and the page will load as expected.