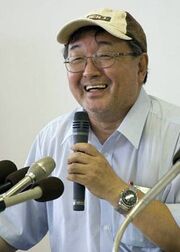 Kosei Tomita is a Japanese voice actor who works for the acting agency Production baobab. He is most known as the voice of Dr. Hell, the main villain of the Mazinger franchise and Danbei Hayami from Cutie Honey.[1][2]
He was cast as the voice of Dr. Gilmore for the 1979 anime incarnation of Cyborg 009.
References
Edit
Ad blocker interference detected!
Wikia is a free-to-use site that makes money from advertising. We have a modified experience for viewers using ad blockers

Wikia is not accessible if you've made further modifications. Remove the custom ad blocker rule(s) and the page will load as expected.