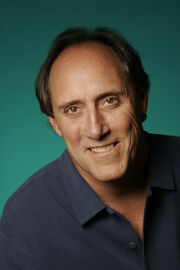 Kirk Thornton (born May 13, 1956), is an American voice actor active since the early 1990s. In addition to dubbed anime, he has provided voice work for Western animation, and had also done on-camera acting prior to his voice career.
He was often credited by several different names in earlier non-union productions, such as Sparky Allen, Sparky Thornton, Sean Thornton, Spanky Roberts, Todd Crump, and Ron Allen.
Though 2003 to 2004, he was cast as 002 in Sony Pictures' dub of Cyborg 009: The Cyborg Soldier, along with voicing bit parts in the series.
Other Roles
Edit
Code Geass - Kaname Ohgi
Cyborg 009 - 002 (CS)
Blackjack - Blackjack
Duel Masters - Black Knight
Perfect Blue - Yamashiro
Gungrave - Brandon Heat
Wolfs's Rain - Leara's Father
Cowboy Bebop - Steve
Planetes - Hachirota
Akira - Various
Heat Guy J - Ken Edmundo
Mobil Suit Gundham F91 - Sam Ehrug
Video Games
Edit
Star Ocean: Till the End of Time - Lancar, Vendeen Soldier
Grandia III - Rotts
Kingdom Hearts II - Sai'x
Live Action Voiceover
Edit
Other Animation
Edit
The Avengers: Earth's Mightiest Heros - Adam Warlock
Happily Never After 2 - Monk
What the ---- Do We Know? - Greed, Desire, & Ensemble
Edgar and Ellen - Mayor
The Night Before Christmas - Michael Mouse
The previously oft-used aliases of Sean Thornton and Sparky Thornton were inspired by his son Sean, who had the nickname "Sparky".
Ad blocker interference detected!
Wikia is a free-to-use site that makes money from advertising. We have a modified experience for viewers using ad blockers

Wikia is not accessible if you've made further modifications. Remove the custom ad blocker rule(s) and the page will load as expected.