Lucy Davenport
{{{nihongo}}} {{{romaji}}}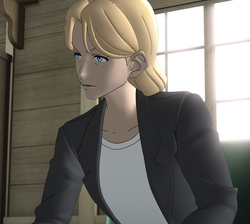 Description
Lucy Davenport is a major supporting character in the CGI film Cyborg 009: Call of Justice.
Appearance
Edit
Lucy is an early middle age woman (late 30s or early 40s) with blond hair and blue eyes who wears a white undershirt and a grey suit with grey pants and black loafer shoes.
Personality
Edit
TBA
Current information about her is unknown, but the film's summary reveals that Lucy is a journalist searching to expose the truth of Blessed, an evil organization of superhumans who have manipulated humanity throughout the course of history. She plays a role in the 00 Cyborg team coming out of retirement from heroics, drawing them into fierce opposition against Blessed in order to save the world.
Appearances in other Media
Edit
Lucy appeared in the manga adaptation of the film, though one noticeable difference from her film counterpart is she appears to be younger in the manga.

Ad blocker interference detected!
Wikia is a free-to-use site that makes money from advertising. We have a modified experience for viewers using ad blockers

Wikia is not accessible if you've made further modifications. Remove the custom ad blocker rule(s) and the page will load as expected.