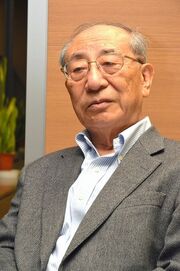 Masaki Tsuji is a prominent and prolific scriptwriter in the world of anime, having been part of the business since anime first debuted on television in Japan during the 1960s.
Most of his best work consists of the TV adaptations of Go Nagai and Osamu Tezuka, but he has also worked with other legendary mangaka such as Mitsuteru Yokoyama on Sally the Witch and of course, Shotaro Ishinomori on his 1968 anime incarnation of Cyborg 009.
Unlike many of his peers from anime's golden age who have retired, he is still active, having recently written scripts for the series Detective Conan and became president of the Honkaku Mystery Writers Club of Japan.
Writing Credits
Edit
Contributions to "Cyborg 009"
Edit
Tsuji would have the opportunity to work on both Toei Animation's 1968 black-and-white series and the full-color 1979-1980 adaptation produced between Sunrise and Toei.
Episodes written for the 1968 series
Edit
In all, Tsuji wrote 10 episodes out of the 26 that were ultimately produced. After the series ceased, there was talk of doing a third theatrical film, but it ultimately fell through.
Episodes written for the 1979 series
Edit
He would return as a writer on this adaptation. In all, he wrote 8 episodes.
Ad blocker interference detected!
Wikia is a free-to-use site that makes money from advertising. We have a modified experience for viewers using ad blockers

Wikia is not accessible if you've made further modifications. Remove the custom ad blocker rule(s) and the page will load as expected.