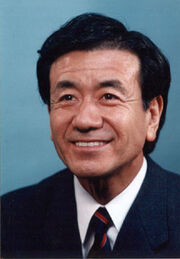 Hiro Hase (January 2, 1936 - March 8, 2002), better known by the stage name Sanjii Hase was a Japanese voice actor and the late father of the late Macross voice actor Aihiro Hase. He worked for the acting agency Aoni Productions until the later part of his life when he became a free agent.
He portrayed Cyborg 006 in both the 1979 Anime and the 1980 feature film.[1]
During the later years of his life time, he not only began suffering the effects of lung cancer, but sadly outlived his son due to Aihiro committing suicide in 1996. In 2002, he died after losing the battle with his illness at the age of 66.
References
Edit
Ad blocker interference detected!
Wikia is a free-to-use site that makes money from advertising. We have a modified experience for viewers using ad blockers

Wikia is not accessible if you've made further modifications. Remove the custom ad blocker rule(s) and the page will load as expected.