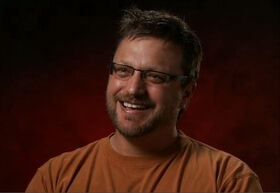 Steven "Steve" Jay Blum is a prolific American voice actor of anime, video games and television. He is best known for being the voices of Spike Spiegel in Cowboy Bebop, Wolverine in various Marvel Comics cartoons, Zeb in Star Wars Rebels and video games and TOM, the host of Cartoon Network's popular Toonami block.
Through 2003 to 2004, he voiced various roles in Cyborg 009: The Cyborg Soldier, notably starting as Cyborg 0013 but covering other bit parts and Van Vogt.
External Links
Edit
Ad blocker interference detected!
Wikia is a free-to-use site that makes money from advertising. We have a modified experience for viewers using ad blockers

Wikia is not accessible if you've made further modifications. Remove the custom ad blocker rule(s) and the page will load as expected.