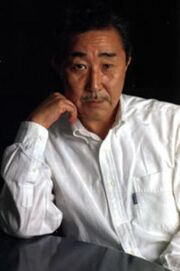 Toyoo Ashida ( 芦田 豊雄, Ashida Toyoo, April 24, 1944- July 23, 2011) was a Japanese character designer, animation director and television director. He was the founder of the anime studio Studio Live[1] and his work in the industry included Fist of the North Star, Space Battleship Yamato, the original Yatterman series, Inuyasha and Oh! Edo Rocket.
He was a character designer and animation supervisor for the 1979 version of Cyborg 009, as well as having been the guest animation director, writer, and storyboard artist for episode 32 of Cyborg 009: The Cyborg Soldier (working under the alias of Yutaka Ekoda/江古田豊 for the writing portion).[2]
References
Edit
Ad blocker interference detected!
Wikia is a free-to-use site that makes money from advertising. We have a modified experience for viewers using ad blockers

Wikia is not accessible if you've made further modifications. Remove the custom ad blocker rule(s) and the page will load as expected.